Helping You Navigate the Waters Of Life
Do you often feel Depressed? Anxious? Confused? Irritable?
Are you experiencing post-Covid stress?
Have you had a loss due to Covid or another illness and struggling to deal with the grief?
Are you struggling with a life-transition (divorce, death, job, move, etc.)?
Do you wish your relationships (family, friends, spouse, others) were better?
Does life feel like a constant struggle, slogging day-to-day?
Do you want to stop enduring life and begin to enjoy it?
Do you want to change your life for the better?
If you answered yes to any of these questions, then Harbor Counseling can help you:
Alleviate depression and anxiety
Improve the quality of your relationships at home, with friends, family, or at work
Enjoy a realistic appreciation of your worth, strength, and value
Gain greater self-esteem
Overcome fear of intimacy and enhance the quality of your relationships
Replace self-defeating behaviors with healthier options
Replace negative, hopeless thinking with the truth about yourself and others
Make the changes needed to lead a better, healthier, happier life
Inspirational Thought
"The most creative act you will ever undertake is the act of creating yourself."
-Deepak Chopra
Meet the Professional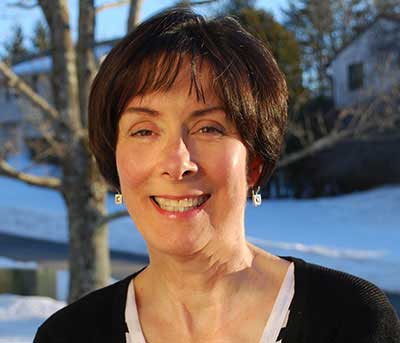 Carol Pironi, LCSW
Westchester, NY Therapist
I am a licensed professional and have extensive experience assisting people with getting the help they need to create sustainable change towards a happier, healthier lifestyle.  I take a compassionate, caring approach with realistic, honest insights and work collaboratively to address the psychological issues at hand.
Every patient is unique, and I apply a custom approach that works to meet your goals and address your issues.
Covid Update
Presently, I'm seeing patients in my office as well as continuing phone and teletherapy when preferred.  Proof of vaccination is required for in-office appointments.
Are you suffering from anxiety or stress? Do you need counseling in NY? I am here to help you deal with the struggles you are facing in your life, and navigate your life back to the way you want it to be with counseling from a leading therapist in Westchester, NY.
Through individual therapy sessions, I aim to help individuals if they feel stuck in life. Or if they are struggling with a certain element in their life such as work or relationships.
Together, we will identify patterns and behaviors that are causing this struggle, and take action to change things. Our work will help you to take better care of yourself, and cope with the challenges in your life.
Are you experiencing issues with your partner or going through a potential separation or divorce? I can help you and your partner develop a more harmonious relationship by providing couples therapy in Westchester that will help you work together more effectively.
My marriage counseling can help you and your partner understand one another better while solving the problems you are both facing. My process begins with talking to you individually for several months, followed by couples sessions.
My group therapy sessions are a safe place that includes a small number of people meeting weekly to discuss the challenges they are facing in life. Whether it be feelings of anxiety, depression, or struggles with relationships, I will help to guide you through to overcome these struggles in your life.
Giving and receiving peer feedback is an important part of self-awareness gained in the group setting.
Regain Happiness in Your Life Through Therapy
Unique Approach for Each Patient
For each individual who visits Harbor Counseling for help, I provide a custom therapeutical approach. My individual approaches will help you achieve your goals as well as address your struggles.
Therapy Professionals With Extensive Experience
New York Therapist Carol Pironi, LCSW, has years of clinical experience and is licensed as a counseling professional. She has made a difference in her patients' lives by helping them to overcome obstacles. Let Carol help you make the positive changes you need to live a happier life.
Why Choose Harbor Counseling to Help You With Your Struggles?
Carol provides her patients with a compassionate, dynamic, and effective therapeutic experience. She understands that life can be overwhelming for some. She is here to create a positive self-concept for individuals when life is proving too overwhelming for them.
Carol graduated from Fordham University with a Masters of Social Work degree and gained a Masters of Teaching degree from Manhattanville College, making her the ideal therapist for anyone seeking help.
Top-Rated Therapy in Westchester, NY
Harbor Counseling is the #1 choice for therapy in New York. See what people are saying about me below:
"My collaboration with Carol has been the most valuable "work" of my life. This has been life-altering, and the most important thing I could have decided to do for myself."
"Since starting to work with Carol, the communication with my husband has really improved. I feel much more hopeful about our marriage and am enjoying life a lot more."
"Carol has given me the tools I need to fight against the negative thinking. As I continue to work on myself, life has become easier and less overwhelming. I am able to fully enjoy the good days and have all the support I need for the bad ones."
"I've been in therapy on and off for most of my life and this is the first time that I am making lasting progress. With Carol's help, I am able to see the cause of my anxiety and depression."
"Working with Carol has helped me strengthen my self concept and break down barriers that have held me back for years. I owe so much of my success to her."
What types of therapy do you use?
Mark
2021-07-31T03:00:11+00:00
Practicing psychologists use an assortment of evidence-based treatments to help people improve their lives. There are many different styles of therapy, but the therapist will choose the type that best addresses the person's problem and best fits the patient's characteristics and preferences. For an overview of the main styles of therapy that I use, you can visit my "Therapy Approaches" web page. (mark, place hyperlink where appropriate here)
For some conditions, therapy and medication are a treatment combination that works best. For people who benefit from medication, therapists work with primary care physicians, and/or psychiatrists on their overall treatment.